I simply adore musicals. There's something just so surreal about expressing emotion in song, and the feeling that you get after you watch a great musical is just indescribable! There are several movie-musicals that I simply love, like
The Sound of Music
and
West Side Story
, but when trying to think of which was my "favorite", there was one movical that just kept popping into my mind, and that awesome film is
Hairspray,
the remake of the Broadway musical based on the John Waters film of the same name.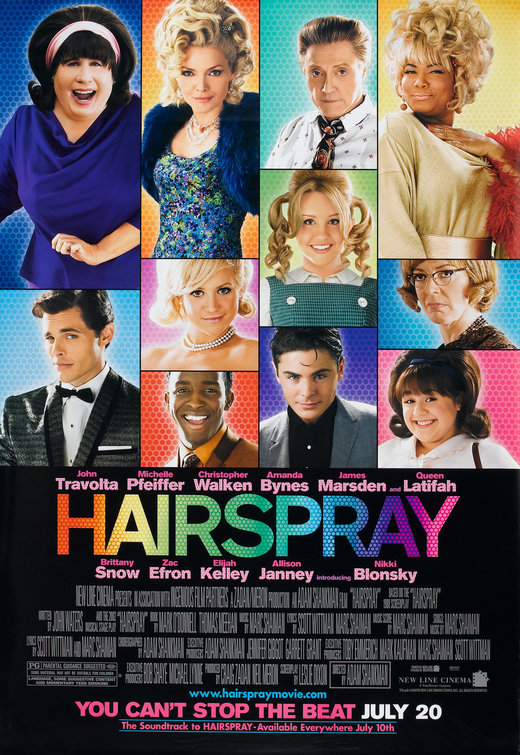 Hairspray
tells the story of Tracy Turnblad, played by Nikki Blonsky, an overweight Baltimore teen living in the 60's who dreams of being a dancer on her favorite television show, The Corny Collins show. Tracy is a fun-loving and ever optimistic teen who rejects the conventions of her time period, believes in the best in people, and also wants to fight for integration.
With the help of her friends Penny and Seaweed (Amanda Bynes and Elijah Kelly), Tracy is able to get on the show, which impresses Corny Collins (James Marsden) himself. Tracy also begins a romance with Link Larkin (Zac Efron). Her uncharacteristic success angers the former-beauty-queen Velma Von Tussle (a lovely Michelle Pfeiffer). Tracy's parents, played by John Travolta and Christopher Walken, also get involved in her crusade for equal rights.
Hairspray
really is the perfect musical. Every song is great, adds to the movie, and is catchy and wonderful. While watching the movie, you'll want to start dancing during and
Welcome to the 60's
and
Without Love
, and you'll definitely have
You Can't Stop the Beat
stuck in your head once it's all over. Every cast member can sing wonderfully (for the most part) and the in-film
dancing is just fantastic.
Of course, it goes without saying that much of why this movie succeeds is its cast. Nikki Blonsky is just radiant as Tracy, and she carries the film away in her debut. Amanda Bynes and Zac Efron are both also wonderful, in probably their best film roles yet, and of course the veterans like John Travolta, Michelle Pfeiffer, and Christopher Walken turn in fantastic and fun performances. Even the smaller roles played by Queen Latifah, Brittany Snow, and James Marsden are memorable and notable. Oh, and perhaps the
best
acting in the entire movie comes from Allison Janney, whose two short scenes are some of the funniest in the film.
"DEVIL CHILD! DEVIL CHILD!"


The great music, dancing, and acting aside (and I didn't even mention the fabulous costumes and art direction!),
Hairspray
is the "perfect musical" because of the feeling that you get during and after you watch it. I saw the film three times in the theater (the most I've ever gone to one movie in the theater, by the way), and at least 3 times on DVD, and every time I just feel so happy and uplifted.
Though sad musicals can be wonderful (
West Side Story, Dancer in the Dark, Sweeney Todd,
do I need to continue?), there is nothing better than a loud, fast moving, fun and uplifting film like
Hairspray
that just makes you feel so, so good inside after you watch it. You just want to start dancing and singing along with the cast.
Though
Hairspray
didn't get a single Oscar nomination, and sure isn't as substantial as
The Sound of Music
, it's still absolutely wonderful. Like I've said, it's got everything it needs to be the perfect comedic musical - a great story, wonderful music, perfect performances, and a greater meaning. It celebrates individuality and is one of, if not my very favorite, musical of all time.
And now a sampling of my favorite songs... :)

This post is for the Musical Blogathon that Andrew is hosting at Encore Entertainment. All the entries will be posted tomorrow by 5, so please check them out! And comment below on your favorite musical or your own thoughts on
Hairspray
. :)